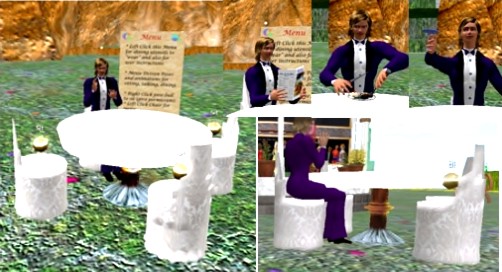 Menu Driven sitting, chatting, dining
Okay, this menu driven system is a little bit more expensive than our other menu driven models, but at $L 1000 it is copy able and can do someone's whole restaurant. The other complexity it has it has separate menu driven capability for each chair - with four chairs per table. And with over 24 animations total, your guests can be animated while sitting, or appear to be chatting and can also appear to be dining. An additional food and utensil giver is included for your guests if they decide to dine. Food and utensils are worn by an avatar - so your guests will end up keeping their food and their utensils for their next visit to your location.
While the table leg seems very complex, no? And the chairs formal and almost a wedding style, the whole set is low prim. The table and chairs are done in sculptured prim, and a highly custom texture on the table leg makes it appear to be a complex structure of a number of prims containing wood, gold and crystal parts, but of course, it is a complex sculptured prim and custom texture instead.
It is extremely low prim at 12 prims, especially when you consider that four of those prims are the gold balls to dire