Caesar's Palace Coming to San Diego
in Partnership with Pauma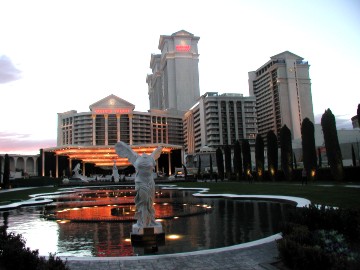 Caesar's Palace in Las Vegas
Note that the San Diego version will likely be different
But hopefully carry much of the same class
near I-15 and route 76 between Los Angeles and San Diego
rpsoft 2000 casino review:
Area note:
North County of San Diego is becoming an impressive casino area. Three very good casinos will be in the same area, giving one almost a feeling of Las Vegas. Harrah's Rincon, Pauma (soon to become Caesar's Palace and Pauma partnership) and Pala Casino are all near each other. Each of these casinos is done with class. The fact that they are in close proximity will make the area more than interesting as a local casino paradise. Valley View Casino is also nearby and Pechanga is just a little more North on highway 15 closer to Los Angeles.
Caesar's Pauma - planned
(note the following are excerpts from the North County Times, an exceptional newspaper in North County San Diego)
Archives of NORTH COUNTY TIMES

Pauma begins $250M talks with Caesars Palace owners


By:EDWARD SIFUENTES - Staff Writer
One of the most recognizable names in Las Vegas gambling could be coming to North County.

Officials of Vegas-based Park Place Entertainment Corp., which owns Caesars Palace and 28 other casinos, announced it was in negotiations with the Pauma-Yuima Band of Mission Indians to build a $250 million "Caesars Pauma" resort and casino on the Pauma Valley reservation, located off Highway 76 about 14 miles east of Interstate 15.
"We're honored to have been selected by the Pauma-Yuima band, and we think we can help them achieve their goal of building a premier casino and resort," said Robert Stewart, a spokesman for Park Place Entertainment.
Tribal chairman Chris Devers could not be reached for comment, but said in a statement that by "tribal vote" the band decided to begin exclusive negotiations with the Las Vegas group to develop and manage the new casino.

"The Pauma tribe is excited about the opportunity to work with Park Place to create a casino resort that the tribe and the community can be proud of," Devers said in the statement.

The 135-member band opened a $40 million, 65,000-square-foot casino in 2001. Unlike several of its tribal neighbors, Pauma developed the casino independently with the help of consultants.

Casino Pauma had a rocky beginning, having to dismiss about a quarter of its 650 employees due to overstaffing, officials said at the time. It also had to agree with the county to pay for road improvements near the reservation, before county officials agreed to withdraw its objections to a casino liquor license.

"Caesars Pauma" would be built on more than 30 acres of tribal land. The project would include a 500-room hotel, 100,000 square feet of gambling space, various restaurants, a live entertainment venue and spa.

If developed, the resort will be the third North County operation with a full-blown hotel and casino. That does not include the smaller casinos at the San Pasqual and La Jolla reservations, or the $262 million Pechanga Resort & Casino in Southwest Riverside County.

The Pauma's casino is within 10 miles of both the Pala Casino Resort and Spa and the $125 million Harrah's Rincon Casino & Resort.

By helping the Pauma band, Stewart said Park Place hopes to reach a growing market for gambling in Southern California that includes millions of adults in the Los Angeles and San Diego county areas.

"The growth of gaming in the area is going to expand the overall market for gaming," he said.

If development and management agreements are reached between Park Place and the Pauma band, federal regulators must approve the management contract before building can begin.

Officials said the project could be completed by 2005.

---
Book: The Complete Blackjack Survival Kit (click for info)
eBook Available from Google Play, Amazon Kindle, Barnes and Noble Nook

Does this book tell you how to win? No. It does tell you how you might get the odds in your favor, and gives some strategy tables for some of the more common blackjack games played in casinos. It also tries to explain using math and simulations why getting the odds in your favor may indeed improve your play, but why no one we know of can guarantee winning all of the time.
<!end of sitemap2>