Harrah's Rincon Casino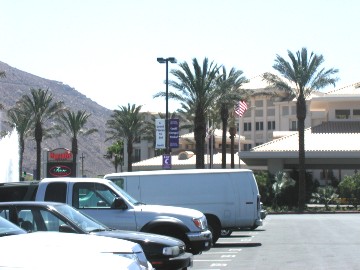 near I-15 and route 76 between Los Angeles and San Diego
rpsoft 2000 casino review:
Area note:
North County of San Diego is becoming an impressive casino area. Three very good casinos will be in the same area, giving one almost a feeling of Las Vegas. Harrah's Rincon, Pauma (soon to become Caesar's Palace and Pauma partnership) and Pala Casino are all near each other. Each of these casinos is done with class. The fact that they are in close proximity will make the area more than interesting as a local casino paradise. Valley View Casino is also nearby and Pechanga is just a little more North on highway 15 closer to Los Angeles.
Harrah's
Harrah's Rincon is done very well, with a great deal of class. This is not an austere Casino, as one might expect who has never been to a San Diego Indian Reservation Casino. It features 7 restaurants, and entertainment, and the slot machines and tables look quite the same as in Las Vegas. If you walk into Harrah's Rincon, you may have to pinch yourself to remind yourself that this is North County in San Diego and it is not in fact Las Vegas.
Blackjack is fun at Harrah's Rincon, and the atmosphere is really nice and professional. Harrah's does not play surrender in Blackjack in Las Vegas - at least the last that I have checked. But somehow, that negative has never stopped me from playing at Harrah's in Las Vegas. However, Harrah's Rincon does offer surrender - at least on my last two trips there. Good for them. Most often their tables do feature the continuous shuffling machines, but a few tables still offer six deck shoes. Based on our own rpsoft 2000 blackjack analysis, the continuous shuffling machines are meant to stop card counters. However, the odds and means of play are really about identical to a 6 deck shoe. So, if you are not a card counter, there would likely be no difference between those two options - 6 deck or continuous shuffling - unless one believes in curses or luck relating to one or the other.
The staff was great, and in fact some things even seemed nicer than Las Vegas - perhaps a little bit more "homey" and I mean that in a nice way. As I recall, while waiting for one in our party playing $1 slot machines on one visit, I went to the bar and noticed that they gave me free coffee and free soft drinks even when I was not playing at the moment. That seemed a great touch. Wonder if it will last? I of course tipped big feeling bad about free soft drinks. Drinks with liquor did have a price tag - and I think were charged for - even if you were gambling. So that also was a difference from Las Vegas.
On the last two trips to Harrah's Rincon, the entertainment was also becoming excellent. They featured a floor show with excellent singing and dancing, and then there were also two separate groups of entertainers elsewhere in the casino. The entertainment was excellent. So if one is not lucky at gambling that night and reaches their limit, slowing down a bit and listening to the entertainment is not bad at all. It still can make for a pleasant evening.
Harrah's Rincon is simply one of our favorite casinos to go to - particularly in the San Diego North County area. Since it is North of San Diego on route 15, it is also just not that far South of Los Angeles.
---
Book: The Complete Blackjack Survival Kit (click for info)
eBook Available from Google Play, Amazon Kindle, Barnes and Noble Nook

Does this book tell you how to win? No. It does tell you how you might get the odds in your favor, and gives some strategy tables for some of the more common blackjack games played in casinos. It also tries to explain using math and simulations why getting the odds in your favor may indeed improve your play, but why no one we know of can guarantee winning all of the time.
<!end of sitemap2>