Treasure Island Casino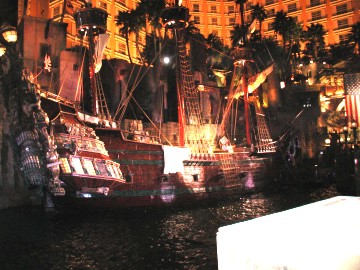 Treasure Island Casino in Las Vegas
rpsoft 2000 casino review:
Treasure Island is a fun casino, more North on Las Vegas Blvd. from Harrah's, Caesar's Palace and the Flamingo. And the trip is worth it. Fun blackjack and a fun pirate show that is staged outside the casino most nights (weather permitting - with low or no wind being the main requirement). The pirate show is well known and crowds gather well in advance to watch the real actors and actresses act out their pirate ship battle. The fire and splashing is also real I might add.
But even more so, the blackjack on the inside was also a great deal of fun as I recall. I tend to leave blackjack tables early some times, but I think Treasure Island might hold my record for the longest time at one table. A fun place. Worth the trip.
---
Book: The Complete Blackjack Survival Kit (click for info)
eBook Available from Google Play, Amazon Kindle, Barnes and Noble Nook

Does this book tell you how to win? No. It does tell you how you might get the odds in your favor, and gives some strategy tables for some of the more common blackjack games played in casinos. It also tries to explain using math and simulations why getting the odds in your favor may indeed improve your play, but why no one we know of can guarantee winning all of the time.
<!end of sitemap2>